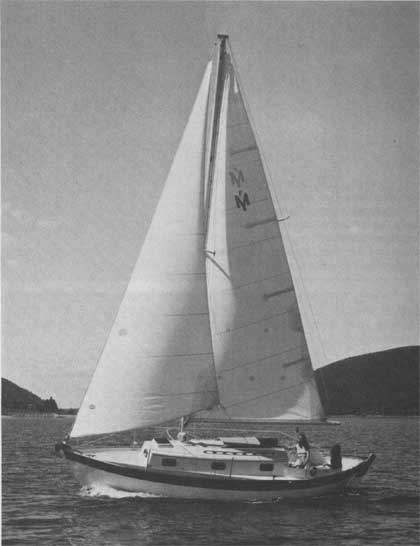 Small Boat Journal #40 January 1985
FRANCES 26
Sophisticated Tradition in a Proper Yacht
By Steve Callahan
Photographs by Benjamin Mendlowltz
Early in his career as an independent designer, Chuck Paine drew for himself a minimal, 26-foot flush-decked cruiser capable of taking him from his home in Maine to yearly cruises in the Caribbean. He wanted a sailboat "small enough to fit my limited budget, yet large enough to survive a gale at sea." He called his creation Frances. The design and prototype were labors of love, and it shows. The sweet sheer, the curved stem sweeping down to a full keel, and the nicely proportioned canoe hull — all trademarks of a Paine design — combine in a strongly traditional aesthetic. As he demonstrates in Frances, Paine is not shy to borrow the good characteristics from the old designs or to admit that boat design has come a long way since Cohn Archer.Drawing on his experience designing racing boats for Carter Offshore, Paine produced a sophisticated hull with a lighter displacement and a finer bow than traditional double-enders. A tall sail plan provides the power; a foil shaped keel, cut away at the forefoot, ensures efficient passage through the water. Indeed, unlike many modern "double-enders" that drag walls of water behind sterns the shape of overripe tomatoes, Paine's Frances has a graceful and efficient stern from which the water flows smoothly aft.Tom Morris of Morris Yachts has built 35 Frances 26s since 1975, including versions with a short trunk cabin and a full coach roof. Each expands successfully on the accommodations available in the original flush-decked design.When I first heard that Morris was adding a full coach roof, I was afraid it would tower above the boat like a shoe box on a banana, ruining the boat's proportions. I was glad to see instead that the new coach roof complements the original lines and appears as though it belongs there. The Frances is now one of the few 26-foot boats with standing headroom that I can honestly say looks Good.For our test of Amita, the newest Frances, the mountains of Maine's Acadia Park — spotlit by sunshine and applauded by good breezes — provided a perfect backdrop. But since any test of an ocean-going cruiser should include a bit of bashing about in a gale, I have included impressions gained six years ago on a passage I made with Morris and a friend from Southwest Harbor, Maine, to Annapolis aboard the flush-decked Frances. She proved a capable little ship in a turbulent sea way then; I have no doubt Amita would do the same.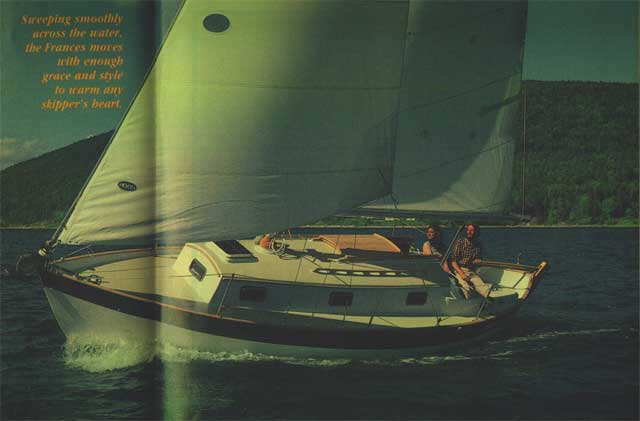 Easy Mover
The Frances is one of Paine's oldest and most conservative designs. Her 6,800 pound displacement on a 21-foot-3-inch waterline gives her a displacement-length ratio of 316. Modern racing boats aim for the 150 to 200 mark and cruisers for 200 to 300, but many cruisers are equal to or heavier than Frances. Her sail area/displacement ratio of 15.02 isn't a lot of canvas per pound, but is again within the normal range. Racer-cruisers often aim at the 18 mark, and pure racers may reach as high as 21. Finally, her sail area wetted surface of 1.9 is on the low side of average. Put into perspective, these performance figures are roughly the same as those of the famous Sparkman & Stephens yawl Finisterre. Although Finisterre would be considered a pure cruiser today, in the 1950s she was one of the hottest CCA-rule racers in the world, and is still the only boat to win the Newport-Bermuda race three times.Paine wanted Frances to sail with an easy, rolling motion so he shaped the hull sections with very easy bilges, a narrow 8-foot beam, and a pointed, low-volume stem. He then had to give her a moderately heavy displacement so she'd have sufficient stability to sail well.The result is a stable, easily-driven hull that stiffens up considerably at 25 to 30 degrees of heel. In 15-knot winds, Frances sails rail down but not under, clipping along quite nicely without excessive leeway. In a sea way, she runs slower and rolls more than a boat designed with wide beam, hard bilges, and deep fin keel. Similarly, though her pitching is slower and a little more extreme than a stiff racer, Frances' motion is easier and more lulling than the skittering jitterbug feel of a sailing speedster.The speedometer on Amita was not working, but I can safely conclude that one can't expect a Frances to plane or even surf unless she is running in lots of wind and big seas. She is, after all, a cruising boat. She merely boils along without much fuss, sweeping smoothly across the water with enough grace and style to warm any skipper's heart. Simple Sail Rig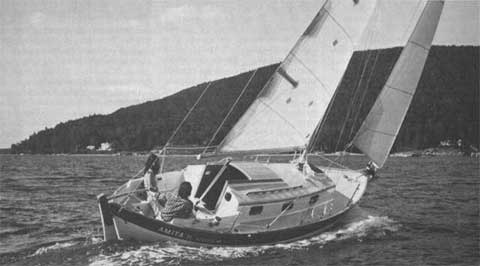 Amita was as simple to sail as one could expect. Our rather limited sail inventory — a mainsail and a 110-percent jib — easily pushed her along at a hull speed of 5˝ to 6 knots. I am so used to high-tech sailing machines with miles of lines and acres of sails to strike and set that there seemed little to do aboard but sit back and relax. But isn't that what cruising is all about?The 168-square-foot jib is a good workhorse, efficient in a wide range of winds, and especially when sailing upwind. We found ourselves tacking within 90 degrees in moderate airs and within 95 to 100 degrees in real light stuff — about what one expects from a good cruiser. However, going upwind in less than 10 knots of breeze or sailing downwind in less than 15, I wanted to set some more sail. A 150-percent genoa would be satisfactory for upwind work, but the wide spreaders and outboard shrouds would have interfered. Even with our small jib, the spreader and upper shroud fouled the leech when we sheeted the sail home. Shortening the spreaders by about 6 inches and perhaps moving the shrouds inboard to the cabin side ought to solve this problem.Downwind in light airs, I'd want a booster or cruising-type spinnaker. The booster is like a double genoa made with spinnaker cloth. It can be run wing-and-wing or the two dews can be brought together like a genoa for work closer to the wind.The 172-square-foot mainsail powers Frances along all on its own, which greatly simplifies picking up a mooring, setting an anchor, and getting underway. We didn't have reefing gear installed, but slab reefing is planned. I'd want a third set of reefs put deep into the sail before going offshore. Sailor's Dream. Frances's uncomplicated sloop rig make it possible
to actually sit back and enjoy cruising.
Keeping a boat's helm balanced improves speed, augments control in bad weather, and makes hand-steering easier and self-steering more accurate. However, the forces affecting balance behave in complicated and unpredictable ways. The center of pressure in the sails moves all over the place as wind strength and direction change, and the center of resistance to leeway, a function of the keel and hull shape, likewise moves around quite a lot. Balance also can be severely affected by the way the crew adjusts the rigging and sails. Frances is well balanced, with only a few degrees of weather helm when sailing upwind.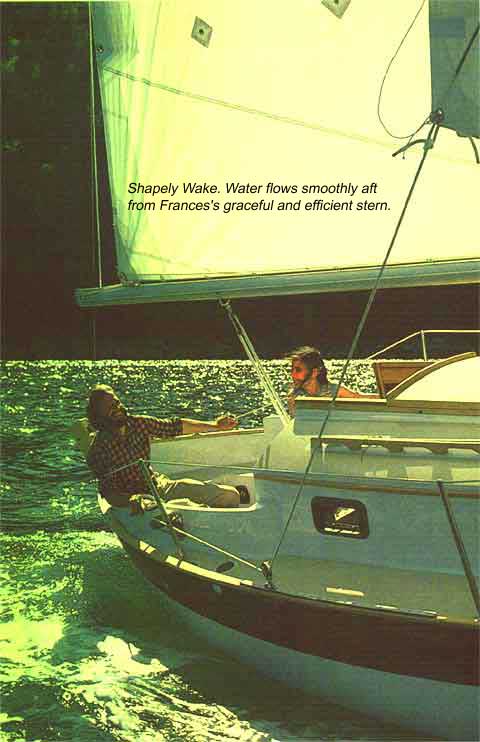 Oddly, I found she sailed and tacked under jib alone better than under main alone. Where most boats would have lee helm, Frances is almost perfectly balanced with just the jib up, allowing the helmsman to fetch a drink or stow the ground tackle. Under full sail, she will track untended if the mainsail is allowed to luff before the jib. She also easily heaved to, even with her small jib.Her normal sailing helm isn't touchy and doesn't require extreme movements, but it is heavy and tiring, as can be expected from a barn-door rudder hung on a full-length keel. I would try to ease the helm in three ways.First, I'd keep a lot of headsail area driving the boat by getting a bigger jib inventory and by reefing the main first. Second, I'd change the mainsheet system. The short traveler on the bridge deck is only effective at controlling mainsail twist when beating or close reaching. It also gets in the way if one is going in and out of the cabin. When beam or broad reaching, the bottom of the mainsail must be overtrimmed to keep the top from flogging, resulting in a heavier weather helm. I'd put the mainsheet on a horse over the top of the tiller, well out of the way. Then I'd add a simple yang attached to the deck with a snap shackle so it could be attached outboard to the lifeline stanchion bases. This arrangement could also guard against jibing. With a yang, the boom can be let out properly and the sail flattened. Third, by putting trim tabs on the barn-door rudders, I could steer with the tabs, literally using fingertip pressure. Chuck Paine's own 29-foot Annie has a very heavy helm, but one can steer her with a pinky by simply moving her wind vane trim tab. One can easily adapt a vane steerer to a trim tab on the rudder.It's a pleasure to sail a boat as manageable as the Frances. The deck gear is top quality, but the sails are also small enough that one can yank them in, often without a winch. In general, the Frances is an easy mover and a very relaxing and pleasant mode of transportation. Owners will not be making many record passages, but they should consistently make respectable ones.
Comfortable Accommodations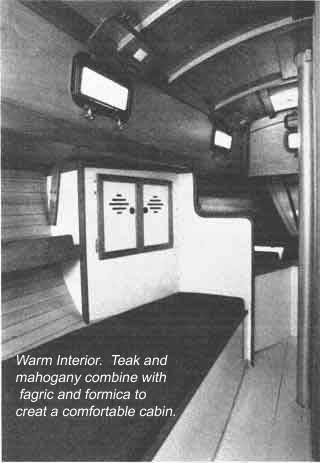 The accommodations on Amita can be simply summed up as beautiful. The quality of cabinetry is excellent for a production boat. The warmth of the well-joined teak and mahogany is balanced by the well-proportioned use of fabric-covered cushions, strip white pine ceilings, and white, easy-to-clean formica countertops and bulkheads.There are numerous, Bristol-fashion details. The drawer under the stove is built with a utensils divider. The bulkhead-to-hull bondings are covered with moldings. Stainless steel dome lights are well positioned for reading, yet are not blinding to the night watch. The seven ports are opening, bronze Spartans fitted with screens. A Bomar hatch forward combines with the ports for good ventilation and light below, and the boat is dry enough that the ports may be left open much of the time. The berths are long and wide enough for the average, or even tall, person. A cruising couple will probably add a V-berth filler forward so they can snuggle. At sea, the crew is provided with one good sea berth to each side. These should be fitted with lee cloths. Surprisingly, one does not hit one's head on the cabin sides when sitting down, a feature difficult to plan on a boat this small. The shelves behind the settees are useful for knickknacks.The galley has a fairly large ice box, a two-burner kerosene stove that burns hot and clean, cooking utensil and food lockers, and a generous-sized sink with a foot-pump-driven tap. It is just the right size, and is convenient to both the cockpit and the lovely, fold-down mahogany salon table.Though the head takes up a minimal amount of space, it is large enough not to make one feel crowded. Seacocks, bonded together with copper strapping, are used on all through-hulls. The head is installed with a high loop and a holding tank. A flexible, rubber tank under the starboard settee carries 30 gallons of water. These tough tanks use space more efficiently and are serviced and cleaned more easily than solid tanks.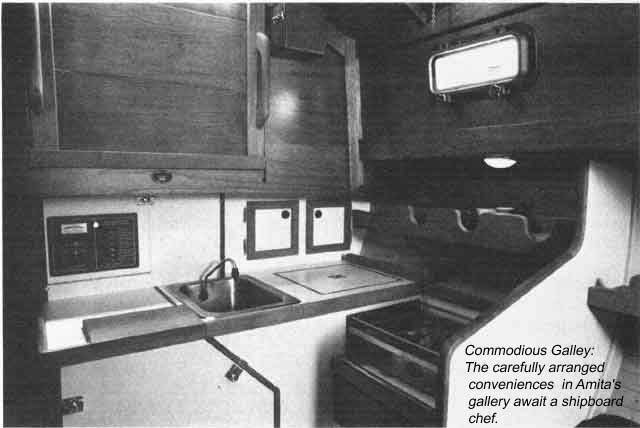 There is generous storage space throughout the boat: under berths, in galley lockers, in the head, and elsewhere. Sails, docking lines, fenders, buckets, and bosunry of all types find homes in the cockpit and lazarette lockers. The wet locker opposite the galley allows one to get out of one's oilies before dragging them dripping through the whole boat.I found Amita's interior layout quite sensible, but if one wants something different, the builder can customize the cabin to suit.I have only minor criticisms of the interior.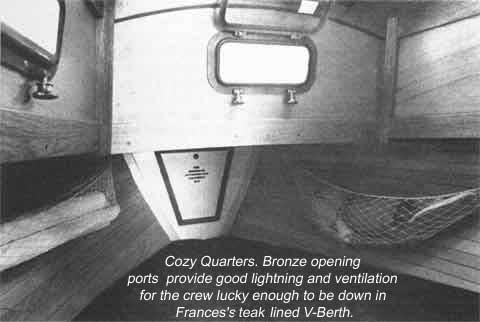 The companionway step is offset to starboard while the hatch is on the centerline, so one often wants to step onto the cutting board covering the sink — not the most appetizing prospect. Perhaps by making the top of the cutting board into a stepping board and the bottom into the cutting board, the problem would be solved. In a sea way, I'd want more handholds below. Both rails on the overhead and handholds in the partial bulkheads are simple to add. Most of the fiddle rails are too short and are beveled on the inside. I'd want them at least 1˝ inches high and plumb on the inside faces. A heat shield above the stove would protect the woodwork from flare-ups.At night, we settled into Amita easily, our lounging disturbed only by noise from the mast. The aluminum column is keel stepped, which is good for strength, but it also acts as a sounding box that amplifies and brings any rigging noise into the boat. We tied off the halyards, but the VHF cable still rattled around. Perhaps filling the mast base with foam to a few feet above the deck would make life quieter below. Securing the VHF wire within PVC tubing riveted to the inside of the mast might also do the trick.
On Deck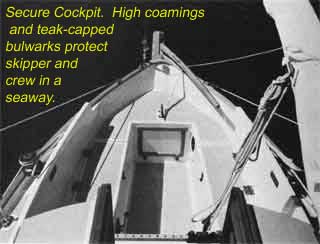 The waist decks are adequately wide for moving fore and aft, and the high bulwarks give the crew solid footing. I really like the sternhead fitting with its bow chocks to capture the line and its bow roller. However, the anchor must be put on deck when not in use, or the mooring line can chafe on the flukes.The coach roof is extremely cambered to visually reduce its height, but as a result it's too steep for standing except on the windward side. However, the mast can be reached from the waist decks and the coach roof handrails are adequate foot supports when the boat is level. Frances hasn't much space to carry a dinghy, but what 26-footer has? A cruising couple will likely tow a dinghy or carry an inflatable. The pointed stern of the Frances reduces the available cockpit space. Nonetheless, I am amazed at how large it appears to be. One can even stretch out on a seat. The backrests are a good height, but are not well-angled. Unless we sat to leeward, the upper edge of coaming cut across our backs, even when we sat upright in port. I'd angle them outboard about 20 degrees and put the outboard sides of the coamings right out to the rail. Aft, the coaming would be thin as it is now, but forward it would widen to accept the winch and provide a seat. A short helms person with a hiking stick would have much better visibility over the coach roof and up at the jib by sitting forward on the coaming.
Safe Little Ship
As for safety, I could find no shortcuts aboard Frances. Morris has built a strong, seaworthy boat with adequate cockpit drains and cleats, good quality, through-bolted lifeline stanchions, sturdy handrails, and bulkheads properly bonded to the hull. At each stage of construction, he has followed the standards set by the Ship and Boat Builders National Federation. In England, Frances is built to Lloyds specifications.Paine's design also exhibits characteristics good for open-ocean work. Although Frances has a tendency to roll downwind, she will not veer around wildly, and she'll keep her crew well rested. She also shows a good range of stability. If she gets knocked down or even rolled, she has a better chance of re-righting than many contemporary mono hulls that are quite happy to stay upside down. Her cockpit well is not too large, and it is divided from the accommodation by a bridge deck, lessening the danger of damage or flooding if she is pooped by a large wave.Although I have never heard or seen any hard evidence that a pointy stem is more or less seaworthy than a blunt one (I believe there are performance advantages to blunt sterns), this boat is unquestionably a capable and safe little ship. In fact, I would not hesitate to equip a Frances and make a voyage to any destination.Despite my few minor criticisms, I find Frances one of the most delightful cruising boats of this size I have had the pleasure to sail. It is evident that her designer and builder are continually working to evolve the boat into a superior species. So far, none of the versions is bad. This is no pop-out clorox bottle. Nor should it be. In 1975, Frances was introduced at $18,350. Today, she's roughly $42,000 including sails. Shocking? Perhaps, but that is simply how much one has to pay for a high-quality, deep-water yacht.Frances 26 is clearly worth the investment.

Editor's Note: Due to the strength of the dollar relative to the pound, Morris Yachts is now importing the Frances from Victoria Marine in Southampton, England The English-built boat, marketed in Britain as the Victoria 26, is identical to the Morris Yachts' Frances in hull, deck, and sailplan, and features a similar interior with more locker space. As ever, Tom Morris Yachts can customize an interior at the owner's request. The good news: Because of this importing arrangement, the Frances/Victoria sells for $39,000, including engine, sails, and commissioning in Southwest Harbor, Maine. Of course, with the fluctuation in the international money markets, this price is subject to change.